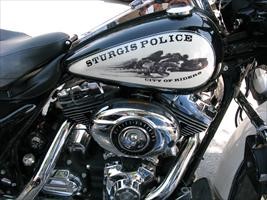 Sturgis South Dakota boasts one of the largest motorcycle rallies every August. Some websites state that it was established in 1938 by Indian Motorcycle riders, named the Jackpine Gypsies motorcycle club, for stunts and races. Attendance can be anywhere between 500,000 and 700,000 people. What makes this interesting is that there are about 15 Sturgis Police Officers during the months leading up to the rally. Obviously they have to bring in extra officers during the rally.
Do you reside within a 10 hour radius of Sturgis? Well then fill out a Rally Police Officer Application! This was taken from their website:
Each year, the Sturgis Police Department compiles a wait list of certified officers to work the annual Sturgis® Motorcycle Rally™. All officers must reside within a ten-hour radius of Sturgis. Applicants must be certified law enforcement officers in good standing with their department / governmental entity.
Please contact Sturgis Police Department at (605) 347-5070 for more information on the application process.
The Sturgis Motorcycle Rally always starts the first Friday in August and lasts for 10 days. Officers must be available to work all days of the Rally™.
For more information, call Paula Basker at the Sturgis Police Department weekdays between 8 a.m. and 4 p.m. 605-347-5070.
For more information about the Sturgis Motorcycle Rally, visit their webpage